In the summer of 2018, I was asked to do a capriccio painting of significant buildings in Greenwich. To get my interest, I was given a book written by John Bold on the history of the Royal Hospital for Seamen at Greenwich, always one of my favourite places. I think it was probably the first place I visited when I came to England in 1973. I remember being taken there by Steve Peterson in his VW bus on one of our first days in London.
Bold's book absolutely gripped me from the first few pages and the commission has slowly evolved into an investigation of the history of the Hospital site rather than Greenwich in general. An evolution that probably lost me a client as it is such a different proposition. The evolution has been a slow one as I have been finishing Nashville and all my painting work has been disrupted by building as we moved into the studio as our home as well as workplace.
Initial sketches of approaches to a more general capriccio of Greenwich kept leading me back to focusing on the different stages of the hospital and to Hawksmoor's schemes to complete it as the more interesting subject.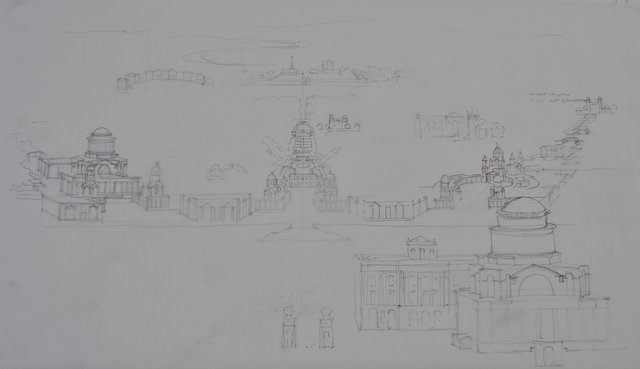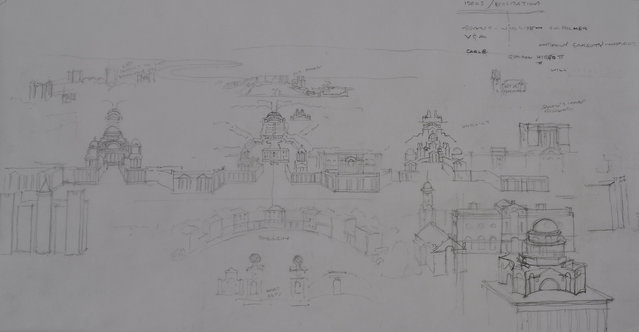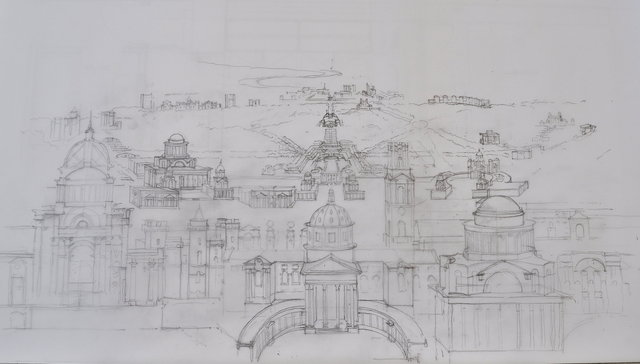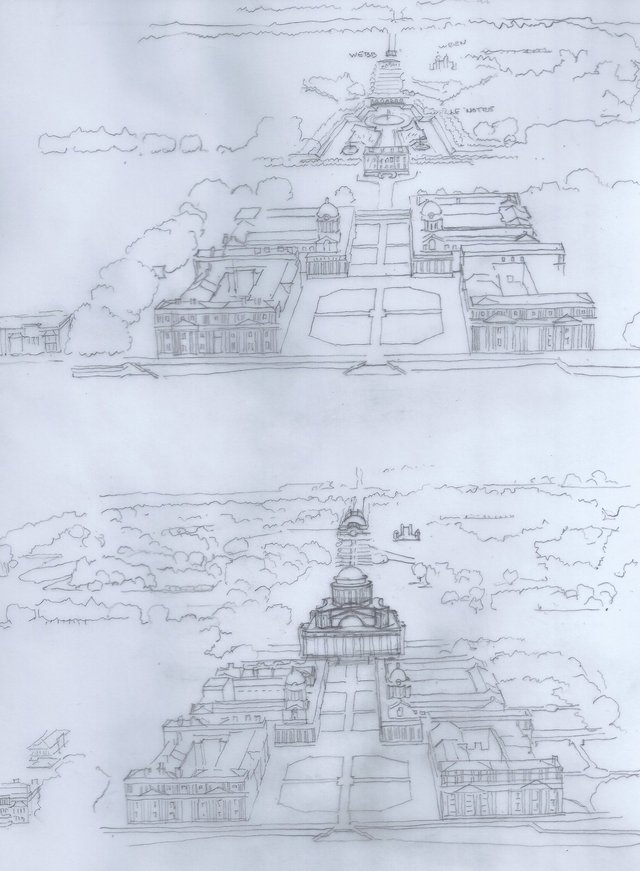 15 August 2018
It is such a wonderful subject that I am determined to continue with it. There is such a rich history of work that was built on the site from a now demolished Tudor Palace of Henry VIII to buildings by Inigo Jones, John Webb, Christopher Wren and Nicholas Hawksmoor among others. But best of all, there is a fascinating unbuilt Greenwich, including an André le Notre parterre and several unrealised projects by Hawksmoor to complete Wren's Hospital. It is Hawksmoor's work that has become the subject that has interested me most.
Le Notre planned gardens linking Inigo Jones's Queen's House to Greenwich Park that were partially but not wholly implemented. John Webb designed "ascents" – stepped terraces – up the hill to a grotto at the top. The shape of the gardens and the major earthworks that were required are still visible in the park though softened by time.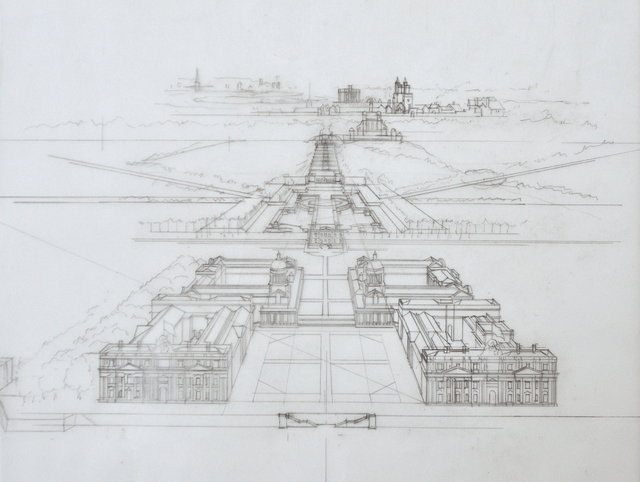 An aerial perspective of Le Notre's gardens as they might have been, and Webb's "ascents" leading to his Grotto.
I was directed to the Soane Museum which houses a large collection of Hawksmoor's drawings of projects to complete the hospital. What struck me about the drawings was their fragmentary nature. There do not seem to be any drawings that show the complete schemes in their totality, just fragments that whet the appetite for a complete vision.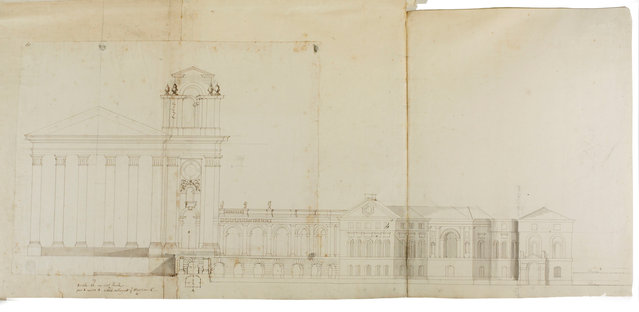 - Part elevation in Sir John Soane's Museum of Hawksmoor's "Second Scheme" to build a large domed Chapel on the site of the Queen's House, with a large elliptical Bernini style piazza in front of it, linking it to the existing hospital buildings.
I think my project should be to depict Hawksmoor's various schemes as if they had been built; to stitch the various fragments together into a whole. There were three major schemes by Hawksmoor, with many variations within each one. At one point he proposed incorporating Le Notre's gardens into his arrangement and actually moved the Queen's House and the Royal Observatory to be axially part of his composition.

2 November 2018
My reworking of Hawksmoor's "Second Scheme" also incorporating Le Notre's gardens and John Webb's grotto as well as moving the Queen's House and Observatory.
Hawksmoor, like many since, felt that Inigo Jones's Queen's house was not really grand enough to hold its central position between the two Wren domed buildings facing the river. I am not sure. When you see what Hawksmoor proposed to close this view, I see the merits of Jones's smaller building which allows views into the park and up the hill to the Wren Observatory. Hawksmoor's projects were all about terminating this view with a massive new chapel.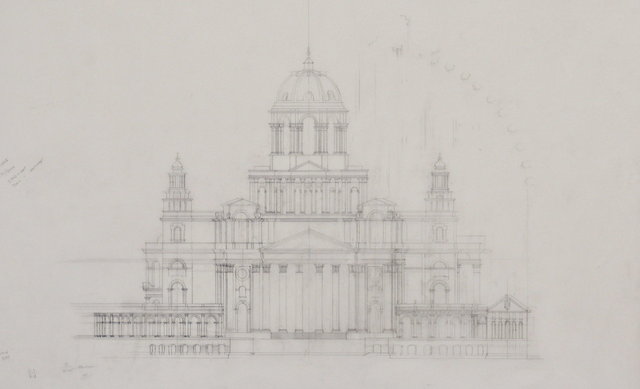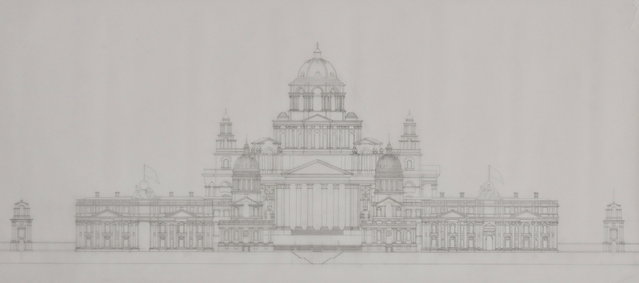 17 November 2018
Hawksmoor's "Second Scheme" to replace the Queen's House with a massive domed Chapel.
I feel my attempts to piece together the fragments of what is called Hawksmoor's "Second Scheme" into a complete image that could be used for a painting are getting somewhere. Pieced together with figured dimensions from Hawksmoor's drawings, but with a certain amount of conjecture especially when it comes to the dome and its drum as there are plans of these but not elevations that I have been able to find.
I really like this drawing of the chapel in context with Wren's earlier buildings. In context the chapel is massive and I had to check several times, as I had done with Lutyens's Liverpool Cathedral, that I had the scale right of both Hawksmoor's proposals and Wren's existing buildings. I like this drawing so much as it suggests some of the drawings Soane made for his Royal Academy Lectures where he superimposed elevations of different buildings for comparison. The difference being that Soane's drawings were done for comparison whereas these buildings were meant to be seen in this relationship. This has to be turned into a painting. Perhaps there is not a capriccio at all, in the sense of combining buildings out of context, but rather a more simple realisation of what Hawksmoor intended.

To understand the context more completely, to get any sense of what happens further into Greenwich Park and up the hill to the observatory, I had to resort to an aerial perspective, as the "Chapel" totally closes the view from the river and obscures the park and the proposals to move the Queen's House and the "ascents".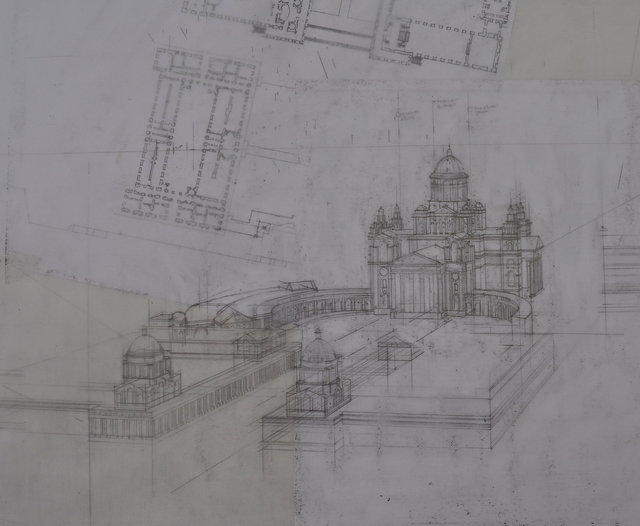 10 December 2018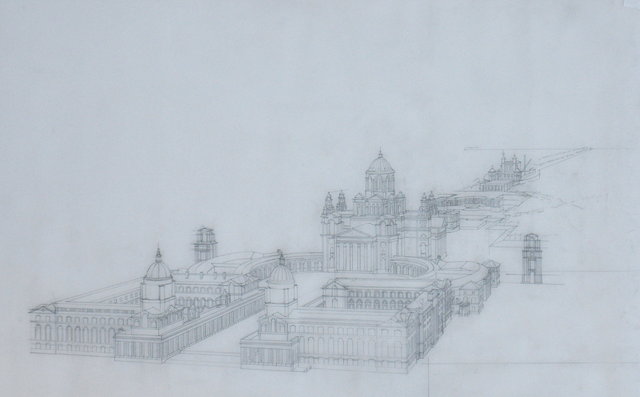 18 December 2018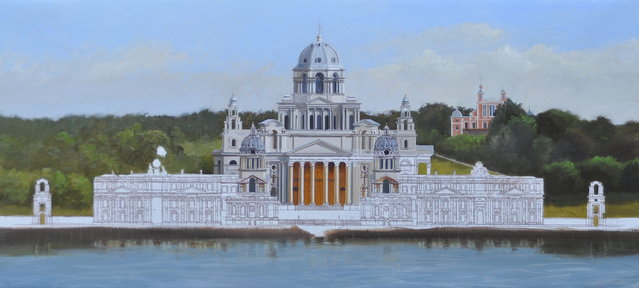 5 September 2019
Start painting. The Chapel really does dominate the earlier Wren buildings in an elevational view. I have chosen not to move the Observatory to a position in the painting on axis with the Chapel and Wren buildings, as suggested in some of Hawksmoor's drawings. I can't believe he really meant it.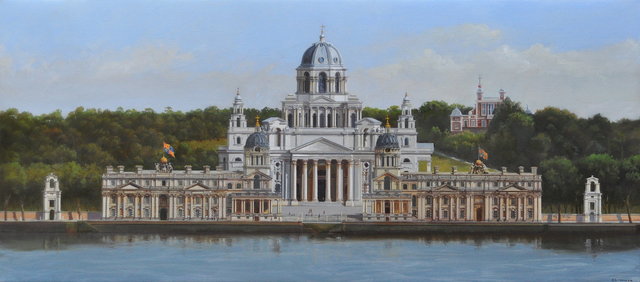 10 March 2020
When seen in perspective, the proposals seem less overwhelming, although one variation of the design came with a 400' tower.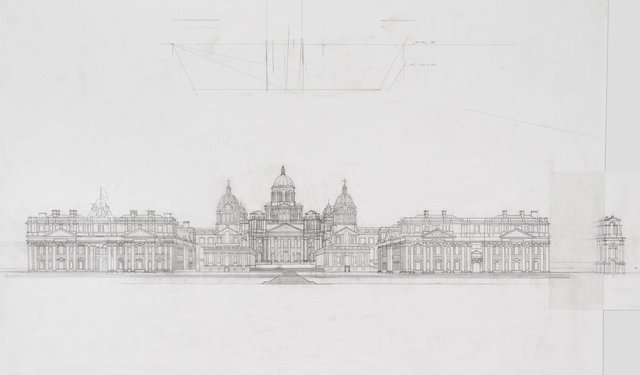 13 February 2019

19 March 2020
The next painting is of Hawksmoor's "Third Scheme", perhaps the best documented of his three schemes, but still lacking elevations of the chapel in context.
Not bristling with towers as his Second Scheme was, the chapel is still massive but it's bolder form perhaps relates more clearly to the Wren domed buildings as they build up to the Chapel.
As it is square in plan it is also more compact than in the second scheme and therefore would allow some sense of Greenwich Park and the Observatory beyond.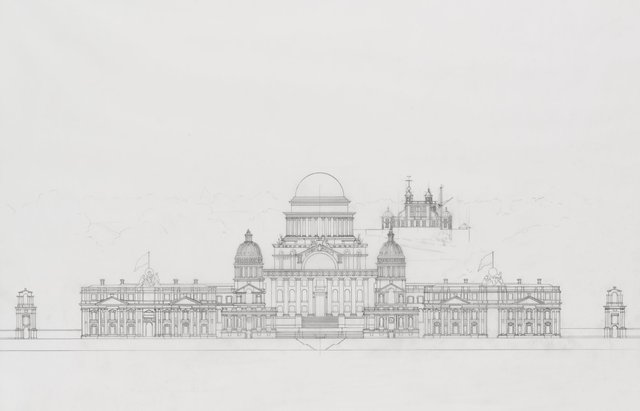 13 February 2019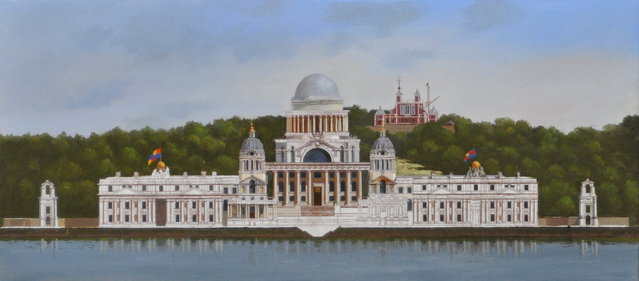 19 March 2020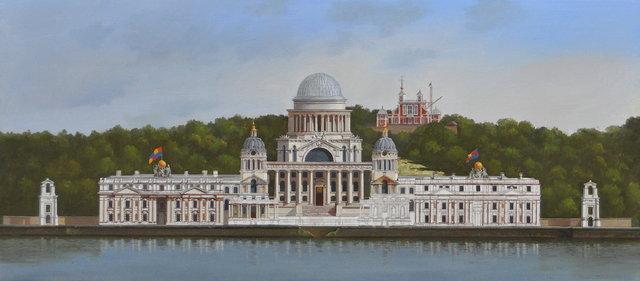 23 March 2020