NASH
The next project I am embarking on is one of John Nash's buildings. I have had a book on Nash, edited by Geoffrey Tyack, for some time. It has been sitting on my desk with the beautiful photo of Cronkhill on the cover staring at me. It seemed like a good idea to follow my Leo von Klenze paintings with something closer to home.
I decided to make him my next subject rather as I did with Lutyens, without thoroughly considering what it would entail. Now, as I start drawing up Nash's buildings, I notice there are 287 entries in Michael Mansbridge's Complete Catalogue, many of which include multiple buildings such as Regent's Street for instance which includes dozens of buildings under one heading. I think Nash might be even more prolific than Lutyens.
The other aspect that is challenging is much of his work needs to be seen in context, of say for instance Regent's Park, not as isolated buildings taken out of context. Nash was himself aware of the problem of depicting his work in context as he produced two panoramas of his buildings lining Regent's Park, four inches high and twelve feet long – each. The extreme length of his terraces on Regent's Park and the continuous line of development from the Park to Buckingham Palace raise serious compositional problems that as yet do not have obvious solutions. I think I must have a way of incorporating the map of the West End showing the extent of this development and the boldness of it, which would probably not be possible as a straightforward view.
The first step, to familiarise myself with the work is to see as much as I can, and draw it up to scale as well as reading as much as I can find about him. I have started this and started sticking up the drawings at the same scale in relation to each other. The first shock is the length of the terraces. At the same 1:200 scale I used for Lutyens, some of Nash's terraces would go half way across the painting, making it impossible to show in relation to each other. So I think I will have to reduce the scale, but do not want to create a composition of "postage stamps", little images that do not convey the detail of the buildings. Having a long panorama in the distance at a small scale and foreground buildings at a larger scale would be a possible approach.
Meanwhile, visiting Brighton, I saw some wonderful detail drawings of the tent roofs on the Pavilion and was sent copies by the curator. They are truly wonderful drawings and I must find a way to incorporate them. Perhaps used as a drawing they could combine with a drawn map of the West End, giving a two dimensional portion of the painting that could intensify the three dimensionally rendered portion.
I am greatly encouraged to find that Ian Nairn dedicated Nairn's London "To John Nash, who provided much of the material, and to Tony Godwin, who gave me the chance to write about it."
Perhaps there is a patron out there who will give me the chance to paint this! It is going to be a long project with a lot of travelling. To have it commissioned would make it much more possible.
Royal Pavilion with section through tent roofed Banqueting Room: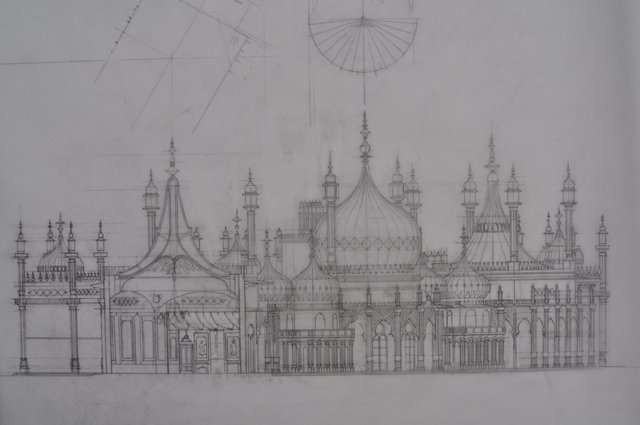 Collaged drawings: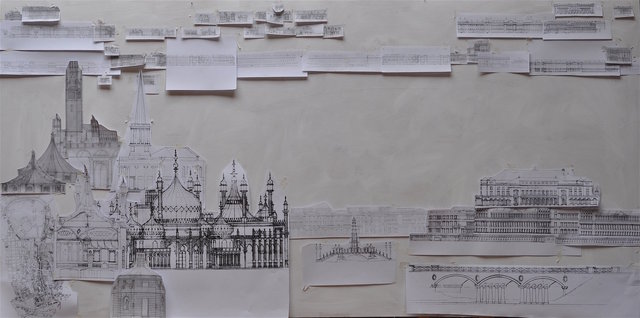 As I slowly put together the drawings of Nash''s buildings, I decided to do some smaller paintings of related individual buildings. They not only add to the possibility of a larger exhibition on Nash, give me greater familiarity with his work before starting on the large capriccio, but also keep me in "training" for painting. A prolonged break from painting while I draw up the Nash buildings would leave me out of condition as a painter when it came to tackling the large work. Painting is like practicing an instrument or a sport, and it is easy to become rusty.
On the 15th of August I completed the individual drawings of John Nash's buildings and the composition that would incorporate them. I then spent two weeks transferring the drawing onto the canvas and have now begun painting. The composition incorporates approximately 260 different buildings and projects.
In combining these 260 buildings into a composition, two perhaps contradictory factors were important. The extent of what Nash constructed both in the terraces surrounding Regent's Park and the buildings along Regent's Street itself, and the desire to see the architecture close up in detail. As a solution, I have shown the full extent of Regent's Street from Langham Place to Piccadilly Circus and then from Piccadilly Circus to The Mall in two rows at small enough scale to fit across the whole width of the composition at the top. This presents a rather uncompromising straight horizon line which is somewhat at odds with Nash's interest in the picturesque. Neither Regent's Street nor the terraces around the park are designed as a single uncompromising line but in segments where one is drawn to a point of interest and then finds some form of re-orientating such as All Souls, Langham Place, The Quadrant adjacent Piccadilly Circus or the Circus itself; or individual buildings around Regent's Park that break the line of the long terraces or spaces which punctuate the long lines of buildings. This works with presenting Regent's Street in two lines, broken at Piccadilly Circus.
To deal with the straight horizon line, I decided to introduce Nash's castle designs at the top, breaking the horizon line in a suitably picturesque arrangement of castles on a hilltop. In similar fashion, on the extreme right horizon I have wandered eastward from Waterloo Place off the line of Regent's Street buildings to show Nash's plan for Trafalgar Square, the Opera House, and his Strand buildings rising above the straight line of Lower Regent's Street.
To further emphasise the extent of Nash's work in London, I am including a map from 1837 showing Nash's continuous development along the park and Regent's Street. I think this will combine nicely with several buildings shown in section such as part of the Royal Pavilion at Brighton and the similar Woolwich Rotunda. I hope I can set up a dialogue here between flat two dimensional surfaces like the map and a very architectural drawing approach to drawing buildings in section with a more three dimensional feeling for the interior of the Banqueting Room in the Brighton Pavilion pressed into those flat areas or the exterior of other buildings pulled out from the flat surface.
Showing the extent of Regent's Street across the full width of the canvas reduces the buildings to a scale where they are not especially interesting as buildings but more as a street scape. I have found a wonderful facsimile book by John Tallis called London Street Views. A survey of the existing buildings between 1838-40, it records Nash's original buildings for Regent's Street, all replaced now save All Souls Church.
To satisfy the wish to see the buildings at a larger scale, I will show the buildings below the Regent's Street horizon line at a larger scale and then take individual examples of each type of building (church, Italianate villa, cottage orné, castle, bridge) and show them at an even larger scale tumbling downhill into the foreground from the upper left corner.
Composition drawing 15.8.2017: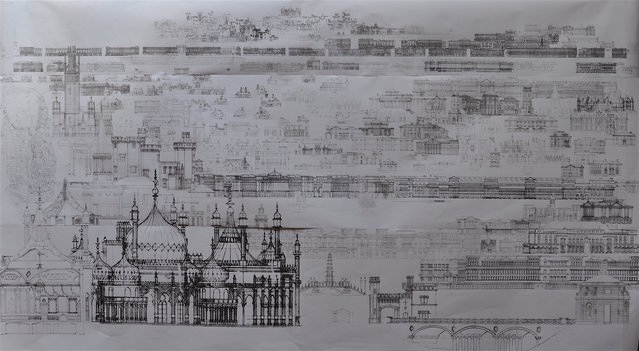 Drawing on canvas 2.9.2017: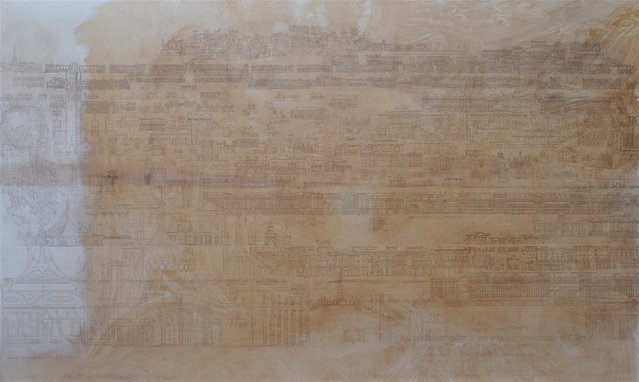 Nashdom 6.9.2017: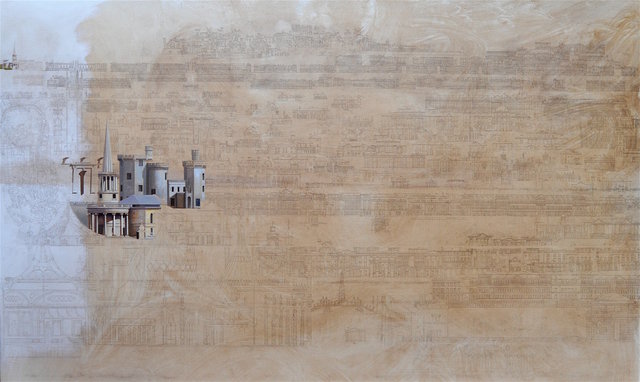 Nashdom 11.9.2017: